2. Rust fungi
The infection behaviour of rust fungi is broadly similar to that of the powdery mildews, involving nutrient absorption by haustoria to support abundant sporulation for epidemic spread. These fungi also get their name from the characteristic sporing stage - in this case the (usually) rust-coloured uredospores which develop in pustules where the fungus erupts through the plant surface.

Figure H. Wheat leaf infected by the rust fungus, Puccinia graminis var tritici, showing individual lesions (light coloured haloes on the leaf) with pustules of uredospores in their centres. [Image taken by placing an infected leaf on a flat-bed scanner]

The life cycle of rust fungi (basidiomycota, related to the toadstool-producing fungi) is often more complex than that of powdery mildews, because some rust fungi need two different types of host to complete their cycle. These hosts are termed the main host and the alternate host.

For example, Puccinia graminis var. tritici has wheat as its main host and barberry plants (Berberis species) as its alternate host. There is a correspondingly large number of sporing stages - up to 5 in some cases, as shown below.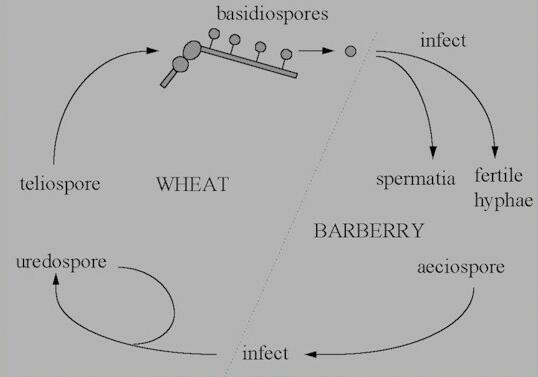 Figure I. Life cycle of Puccinia graminis var tritici.

On wheat:
P. graminis produces uredospores from a bed of tissue that erupts through the leaf or stem surface (Figures J, K). These uredospores can reinfect another wheat plant (see Fungal tip growth), leading to multiple cycles of infection during the cropping season. They are binucleate spores, containing nuclei of different mating types, and they germinate to produce hyphae that have 2 nuclei in each hyphal cell. In this condition, the fungus is termed a dikaryon (i.e. with two nuclear types).
Near the end of the growing season, the same pustules produce a different type of spore - the teliospore, which consists of two cells with heavily thickened and darkly pigmented walls (Figure L). The teliospores also are dikaryons, with two nuclei in each cell.
The teliospores overwinter, and in spring the nuclear pairs fuse to form diploid nuclei. This is followed immediately by meiosis, then the spore germinates from each cell to form a short hypha that produces 4 uninucleate, haploid basidiospores (see Figure I).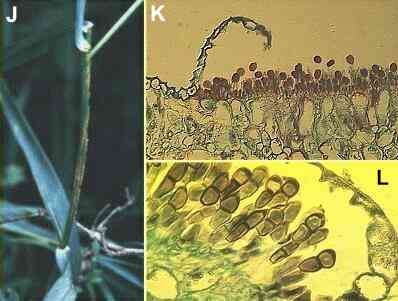 Figures J-L. Puccinia graminis on the cereal host. (J) Pustules of uredospores on a cereal stem. (K) Section of a leaf showing eruption of uredospores through the leaf epidermis (stained with safranin). (L) Section of a leaf later in the season, showing teliospores in place of the uredospores that were produced earlier.

On barberry:
The basidiospores can only infect a barberry plant. They give rise to haploid hyphae of different mating types, which grow through the barberry leaf. These hyphae produce flask-shaped sexual structures termed spermogonia on the upper surface of the barberry leaf (Figures M and N). Small "male" sexual spores (spermatia) are formed within the spermogonia, and "female" flexuous hyphae project from the neck of the spermogonium, among the stiffer hairs (arrowhead in Figure N).
Fertilisation of flexuous hyphae by spermatia of a different mating type is brought about by insects. Then the nuclei pair in the hyphae, forming a dikaryon which gives rise to sporing pustules on the lower surface of the barberry leaf (Figures O and P).
The spores from these pustules are termed aeciospores. They can only infect a cereal host, thereby completing the life cycle.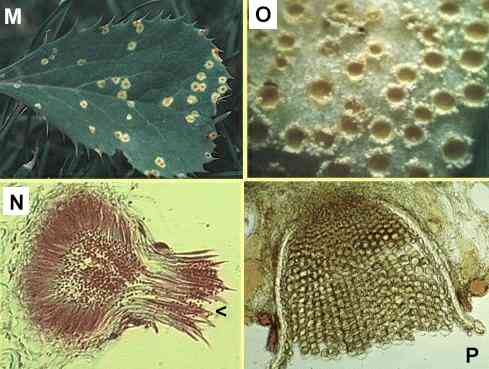 Figures M-P. Puccinia graminis on the alternate host, barberry. (M) Small lesions on the upper surface of a barberry leaf, with spermogonia in their centres. (N) Section of a spermogonium, showing the minute spermatia (male sexual cells) and the position (arrowhead) where flexuous (female) hyphae arise. (O) Close-up of lower surface of the leaf, showing cup-shaped pustules of aeciospores. (P) Cross section of a leaf showing the aeciospores developing in tightly packed chains from a pad of fungal tissue.

Some common rust fungi

Rust fungi are remarkably common on both crop plants and wild, native plants. On crops they cause serious economic damage, necessitating the use of fungicides. Although Puccinia graminis (black stem rust of cereals) is most important in the USA, Puccinia striiformis (yellow rust) and P. recondita (brown rust) are more important on cereals in Britain.

Several other rusts are common in Britain.
Phragmidium violaceum produces pustules of violet teliospores on the leaves of blackberry bushes (Rubus fruticosus) (Figures Q, R). The stalked teliospores of this fungus are highly distinctive (R). There is no alternate host in this case, only the main host.
Puccinia punctiformis (thistle rust) is also commonly seen (Figure S). It grows systemically in the thistle Cirsium arvense, overwintering as mycelium in the rootstock, and producing chocolate-brown aeciospores. This fungus also has no alternate hosts.
Another common species is birch rust, Melampsoridium betulinum, which forms abundant uredospores (Figure T) and aeciospores on birch leaves. Larch trees are the alternate host of this fungus.
Further common species include mint rust, groundsel rust (Coleosporium tussilaginis; Figures U, V), dandelion rust, hollyhock (mallow) rust and snapdragon (Antirrhinum) rust.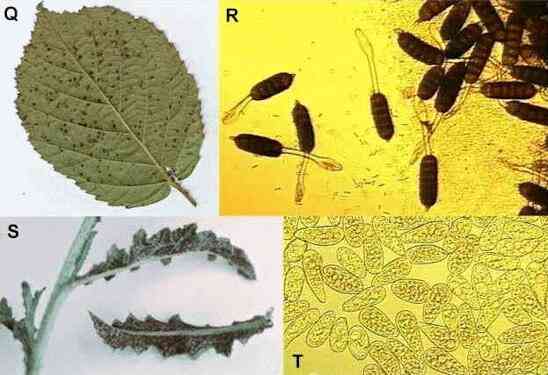 Figure Q-R. Blackberry rust, showing pustules of aeciospores on the leaf surface (Q) and the stalked, multicellular aeciospores under a microscope (R). Figure S. Thistle rust. Figure T. A mass of uredospores of birch rust, each about 30 micrometers long and easily impacted onto leaf surfaces during wind-dispersal.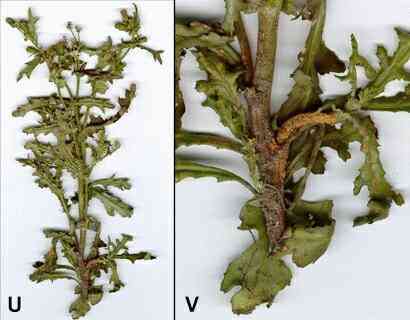 Figures U,V. Groundsel (Senecio vulgaris), a common weed of open ground. U, whole plant (about 15 cm tall) with rust infection at the base; V, close-up of base, showing uredospore pustules of Coleosporium tussilaginis on the stem and leaves.

Further reading.

Books:
JW Deacon (1997) Modern Mycology. Blackwell Scientific, Oxford.
Websites:
An excellent site from a public-service disease diagnostic lab in USA: Oklahoma State University Diagnostic Laboratory