The Rotorod spore sampler

The rotorod sampler (Figure C below) is a cheap, simple and portable air sampler. It consists of a U-shaped metal rod attached by a spindle to a battery-powered electric motor. The motor causes the upright arms of the metal rod to rotate at high speed. To use the sampler, the upright arms are covered with narrow strips of sticky tape, so that any spores in the air will impact onto the tapes. Then the tapes are removed and examined microscopically to identify the spores and other particles such as pollen grains in the air. Some examples are shown in Figures D and E.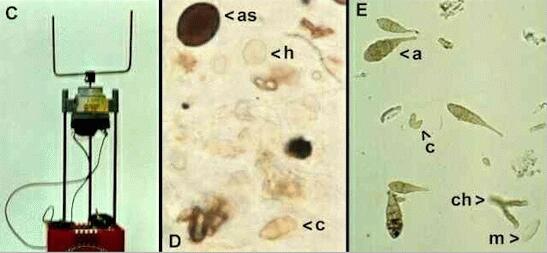 Figure C: Rotorod sampler. Figures D, E: Pieces of sticky tape on which spores and other particles were impacted. The identifiable particles include: in D, an ascospore (as), a hyaline (colourless) fungal spore (h) and a conidium of the common leaf-surface fungus Cladosporium (c); in E, multicellular conidia (resembling snowshoes) of a common leaf-surface fungus Alternaria (a), conidia (c) and hyphal fragments (ch) of Cladosporium, and a large hyaline spore of a powdery mildew fungus (m).
This type of sampler is most effective for trapping relatively large particles (upwards of about 7 micrometres) such as the larger fungal spores and pollen grains. The reason for this is shown in Figure F below.

When air is travelling towards an object such as a narrow cylinder, or vice-versa, it is deflected around the object. Any particles in the air will tend to continue along their original trajectory, but their ability to do this (and to impact onto the object) is governed by their momentum (defined as mass x velocity). At any given air speed, the heavier particles are most likely to impact (a in the diagram) whereas smaller (lighter) particles are likely to be deflected round the object. Very high air speeds would be required to impact the smaller particles (b in the diagram), and such air speeds are seldom found in natural conditions.
In practice, therefore, fungal spores and other airborne particles can be grouped into two broad categories - those that can impact on surfaces (impactors), and those that are smaller and are only removed from the air by sedimentation in prolonged calm conditions or that are removed from the air by rain.
One of the advantages of the rotorod sampler is that it can be used to precisely locate a source of spores of a particular fungus. The famous aerobiologist, PH Gregory, did this in the 1950s by placing rotorod samplers at different positions in a field and "homing in" on a source of spores of the fungus Pithomyces chartarum, which causes a condition known as facial eczema of sheep.
Many important pathogens of crop plants have large spores that impact readily onto plant surfaces to initiate infection. Examples include powdery mildew of wheat, Erysiphe graminis (Figure G, with spores about 30 micrometres long) and loose smut of wheat, Ustilago tritici (Figures H, I). This smut disease is characterised by a mass of black spores where the grain would normally be produced. These spores are 8-10 micrometres diameter. (See Biotrophic pathogens).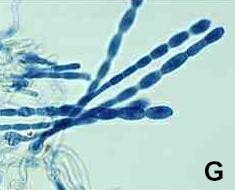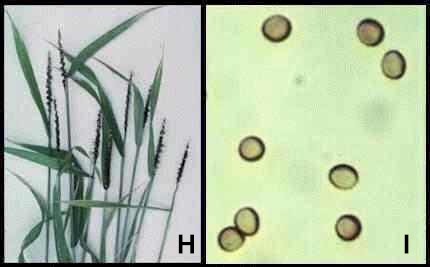 Further information on the rotorod sampler can be found from the website of a commercial supplier, http://www.multidata.com/samplingtechnologies.html (not on this server).