Fairy ring fungi
Several basidiomycota grow as decomposers on the "thatch" of dead leaves and roots that accumulate in old grasslands. Their produce rings of fruitbodies in autumn, known as fairy rings because folklore associates them with the circles of fairy dances. The rings expand each year, as the fungal hyphae grow into new zones of thatch, and the hyphae in the older zone die, releasing nitrogen into the soil. This nitrogen promotes the growth of grass behind the advancing margin of the ring, giving it a richer green colour. Thus, we can see fairy rings for much of the year, as rings of enhanced grass growth, even when the fungal fruitbodies are not present.
Some fairy rings are extremely large - for example those on the grass plains around Stonehenge in Wiltshire - and measurements of their current annual rates of expansion suggest that such rings can be at least 400 years old.
Most fairy ring fungi produce only "green" rings and cause no damage to the grass. For example, this is true of the rings caused by Hygrocybe species, the fruitbodies of which are waxy and often brightly coloured.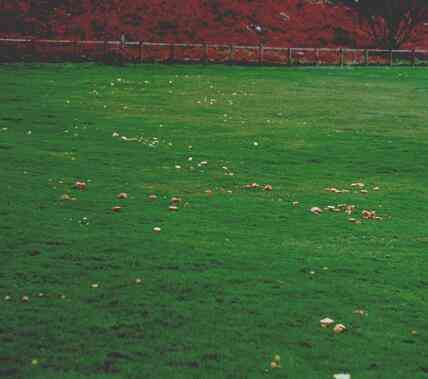 Rings of Hygrocybe fruitbodies and zones of lush grass growth caused by this fungus.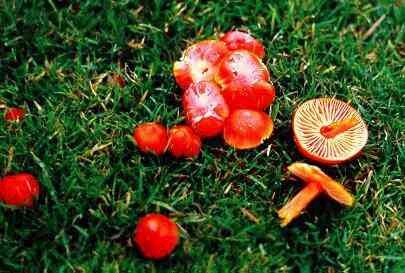 Fruitbodies of Hygrocybe from non-killing fairy rings
However, the fungus Marasmius oreades (known as the fairy ring champignon; see below) forms such a thick, water-repellent mass of hyphae beneath the soil surface that it prevents water from penetrating the soil and therefore leads to a ring of dead turf, with a ring of darker, lusher grass behind this. M. oreades is known to produce hydrogen cyanide in laboratory culture, and HCN also has been detected in the killing zone of rings. But there is uncertainty about whether this contributes to death of the turf. In fact, the simplest way of overcoming the killing action of this fungus is to water the affected zone of turf with a dilute solution of a surfactant such as washing-up liquid.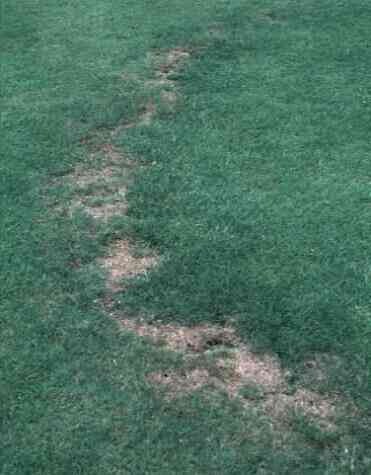 Ring of dead grass turf caused by growth of the fungus Marasmius oreades. The ring is expanding outwards towards the left of the image. A zone of dark, lush grass growth is seen behind the killing zone.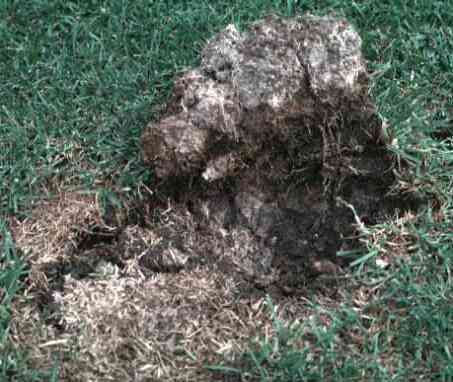 The same fairy ring as above, but part of the turf has been lifted to show the mass of water-repellent fungal hyphae growing on the dead roots and leaf sheaths of the turf.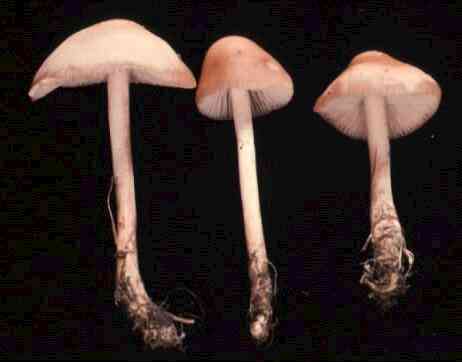 Fruitbodies of Marasmius oreades. They are brown-coloured, with shallow caps (when fully expanded) and widely-spaced gills. The caps are about 3 cm diameter.