Electron microscopy shows that there is a rapid and generalised breakdown of the cellular organisation when zoospores are exposed to saponins. Figure D shows an untreated (control) cell in the early stages of encystment. The nucleus has migrated to a central position, and the cell contains numerous vacuoles and mitochondria. There is also a conspicuous water-expulsion vacuole (WEV), consisting of a large central vacuole and smaller surrounding vacuoles (one marked by 's'). At regular intervals (7-10 sec) the central vacuole expels its contents and disappears; then the surrounding vacuoles coalesce to produce a new central vacuole. This process continues until the cyst wall has developed; then the WEV disappears.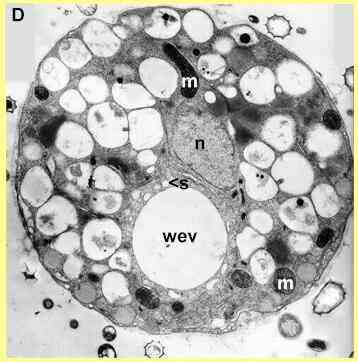 Figure D. Untreated zoospore in early stages of encystment, showing the nucleus (n), mitochondria (m) and water-expulsion vacuole (wev) consisting of a large central vacuole and smaller surrounding vacuoles (s). [SW Jones & JW Deacon, unpubl.]
In contrast to this normal organisation, Figure E shows two zoospores treated with a saponin. The water-expulsion vacuole has an irregular, convoluted appearance, because the surrounding vacuoles have fused with the central vacuole. Many of the mitochondria have a degenerate appearance, and the normal vacuoles of the cells have aggregated, with electron-dense contents. Cells like this do not produce a cyst wall so they are destined to die.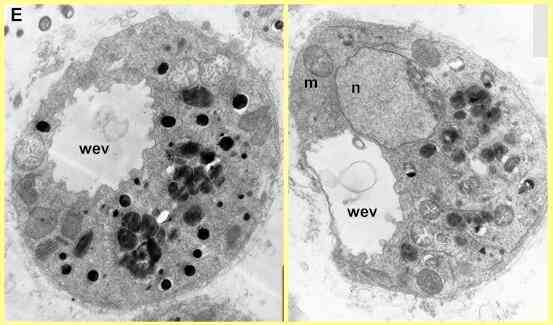 Figure E. Two zoospores treated with the saponin beta-aescin. [SW Jones & JW Deacon, unpubl.]
Light-microscopy of Pythium zoospores treated with beta-aescin (Sion W Jones & Deacon, unpubl.) showed that the water-expulsion vacuole swells to occupy a large volume of the cell and then discharges in a 'violent' manner, releasing some cell contents as well as the contents of the WEV. This could indicate a disruption of the normal process by which the membrane of the WEV fuses with the cell membrane. The process occurred two or three times, at irregular intervals, before the cells lysed from the region near the WEV. Some cells also produced a balloon-like swelling from this region (see Figure F) before they lysed.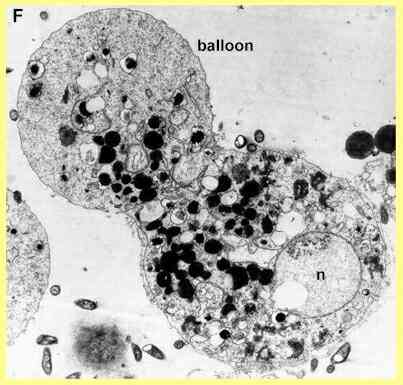 Figure F. Zoospore treated with beta-aescin, producing a balloon-like swelling from the region close to the water-expulsion vacuole (not seen) [SW Jones & JW Deacon, unpubl.]