The Microbial World:
Fungal zoospores II. Chytrids and plasmodiophorids

Produced by Jim Deacon
Institute of Cell and Molecular Biology, The University of Edinburgh
This Profile follows from the introduction given in Fungal Zoospores I. It deals with the zoospores of two further groups of organisms - the chytridiomycota and plasmodiophorids, and their roles as vectors of some important plant viruses.

1. Chytridiomycota
The chytridiomycota are the only major group of true (chitin-walled) fungi that produce zoospores. These fungi are very common as saprotrophs, facultative parasites and obligate parasites in moist soil and freshwater habitats. They depend on their zoospores for dispersal and site-selection. In fact, this is how the chytridiomycota can be detected - by placing baits such as plant seedlings, pollen grains, insect exoskeletons etc. in water or wet soil, because the zoospores encyst on these materials and then give rise to microscopic colonies (Figure A).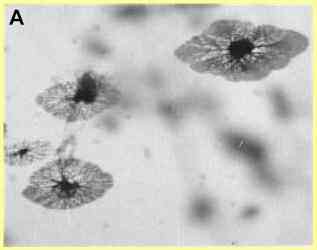 Figure A. Four small colonies of Rhizophlyctis rosea on a piece of Cellophane buried in moist soil for 5 days. The central, globose thallus (body) of each colony has been dislodged, leaving the finely branched rhizoids within the Cellophane.
The saprotrophic species include several that degrade polymers. For example, Rhizophlyctis (Karlingia) rosea colonises and degrades cellulose baits in soil, and Chytridium confervae degrades chitin. A specialised group of chytrids grow in the rumen of herbivorous animals, where they degrade cellulose and thus play a primary role in the complex microbial ecology of the rumen. These fungi, such as Neocallimastix frontalis, are unusual because they are obligately anaerobic. They ferment sugars to generate a mixture of formate, acetate, lactate, ethanol, CO2 and H2.
The facultative parasitic species include Catenaria anguillulae, a parasite of nematodes, fluke eggs and several other small organisms (see Figure B). Some other facultative parasites attack the resting spores of plant-pathogenic fungi or mycorrhizal fungi in soil, and perhaps contribute significantly to natural biocontrol systems.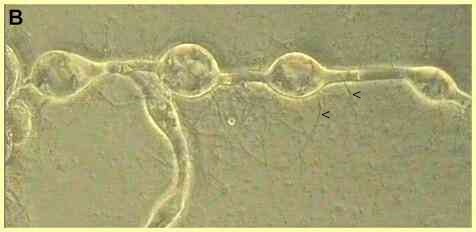 Figure B. Catenaria anguillulae in agar culture. The fungus grows in a hypha-like form, with rhizoids (arrowheads) and chains of swellings (sporangia) in which the zoospores are produced. The generic name Catenaria stems from the latin term "catenulate" (in chains).
The obligately parasitic species include Olpidium brassicae and other Olpidium species, which are extremely common on roots of wild and crop plants throughout the world. These fungi cannot be grown in culture, away from their hosts. They are symptomless parasites which cause no damage in their own right, but they are important vectors of several soil-borne plant viruses (see later). Stages in the life cycle of these fungi, relevant to their roles as virus vectors, are shown in Figures C and D.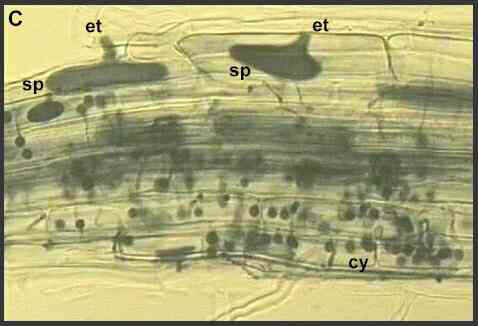 Figure C. Part of a grass root, cleared by treatment with strong alkali then stained with trypan blue to reveal large sporangia (sp) of Olpidium brassicae within the root cells. At maturity the sporangia release zoospores through exit tubes (et). Several zoospore cysts (cy) can be seen on the root.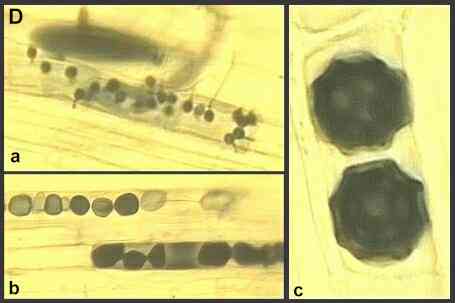 Figure D. Olpidium brassicae in cleared grass roots. (a) Several zoospore cysts (about 4-5 micrometres) have germinated to produce short tubes that penetrated the root cell wall then released the cyst content as a naked protoplast into the host cell. The protoplasts grow and become multinucleate, then they convert into walled sporangia to release further zoospores. (b, c) Sometimes the host cells contain thick-walled, stellate resting spores (about 15 micrometres), seen in early stages of development (b) and in mature form (c). These spores can persist for several years in soil. They are thought to develop from diploid thalli, when zoospores fuse to form binucleate zoospores which then encyst and infect a host.