Kombucha tea
Some members of the bacterial genus Acetobacter, especially Acetobacter xylinum, synthesize large amounts of cellulose when grown on sugar sources. These bacteria occur naturally on the surfaces of fruits and flowers, and have important roles in the commercial production of vinegar from wines and other fermented products. They are strictly aerobic (oxygen-requiring) organisms and they often grow after a phase of activity by fermentative organisms (e.g. yeasts), converting the fermentation end products to more oxidised forms. For example, one of their characteristic activities is to oxidise ethanol to acetic acid, so they are commonly known as acetic acid bacteria.
One of the more unusual roles of these bacteria is in the production of fermented teas, such as Kombucha tea. This tradition dates back more than 2000 years in eastern countries such as China, Japan and Russia. Recently it has become popular as a "herbal remedy" in western societies.
(see The Kombucha Network (not on this server)
The tea is made by adding a microbial culture to a mixture of black tea (cooled) and sugar, with a small amount of vinegar to acidify it. Then the mixture is incubated for 1-2 weeks. During this time, Acetobacter and various yeasts grow to produce a rubbery, pancake-like mass on the surface of the tea (Figure A below).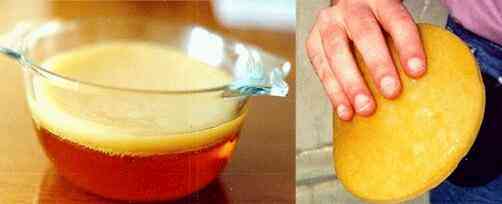 Figure A. Bowl of Kombucha tea after 2 weeks' incubation (left) and the rubbery mat removed from this culture (right)
This pancake has various popular names such as "tea fungus" or "Magical mushroom" but in fact is a meshwork of cellulose fibres with embedded bacterial cells and some yeasts (Figures B-D below). A portion of it is used as inoculum to produce the next batch of tea. A wide range of metabolic products of the acetic acid bacteria accumulate in the liquid medium, including acetic acid, ketones and gluconic acids. The types and proportions of these compounds will vary with time and culture conditions. Perhaps this variation accounts for the astonishingly wide range of effects that Kombucha is claimed to have - from relief of athlete's foot or removal of warts to the elimination of ageing, restoration of hair colour and cure of cancers!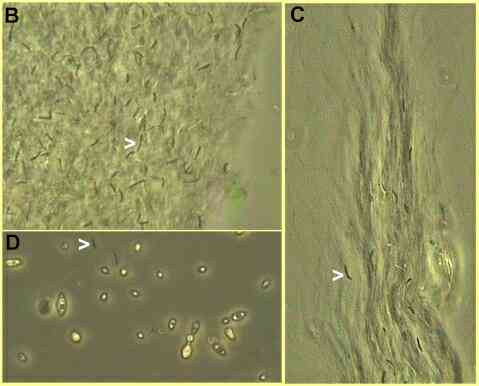 Phase-contrast micrographs of part of a Kombucha mat. B and C show separately spaced cells of Acetobacter xylinum (arrowheads) embedded in extensive sheaths of cellulose microfibrils that they synthesized. D shows a few bacterial cells (e.g. arrowhead) and several budding yeast cells in the free liquid below the mat.
Warning: The almost cult status of Kombucha tea has led to networks for the sharing of "starter cultures" which might contain potentially harmful contaminants. To some degree, the activities of the mixed population of organisms in a Kombucha culture serve to regulate the culture environment (e.g. lowering of the pH) and to reduce the growth of contaminants. But the typical domestic kitchen is not a microbiologist's model of a clean and safe environment! It is unlikely that either microbiologists or qualified medical practitioners would endorse the drinking of Kombucha tea. No endorsement is implied in this site.