The North American deserts are highly accessible, well-researched and very diverse, so they provide a good basis for understanding desert ecology. These deserts are found in a broad band running down the western side of the USA and into Mexico. They lie in a large basin between the Rocky Mountains to the east and the Sierra Nevada to the west. They receive relatively little water - typically less than 25 cm (10 inches) per year - because most of the precipitation falls on the higher mountain ranges and not in the lower-lying desert regions (which are in the "rain shadow" of the mountains).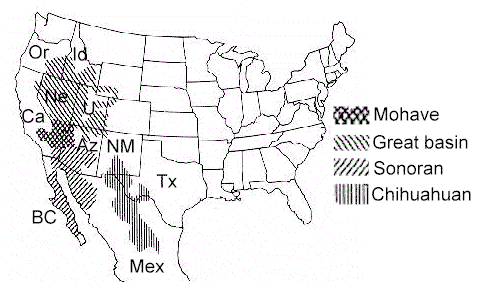 Approximate boundaries of the four main deserts of North America
These North American deserts are grouped into four major types - the Great Basin Desert, Sonoran Desert, Chihuahuan Desert and Mojave Desert - depending on their characteristic physical features (rainfall, topography, soil types) and characteristic vegetation and associated animal communities.
Whilst some of the best desert areas of North America are now protected from development by being designated as State Parks, National Parks or National Monuments, vast areas of land dominated by creosote bush and other less spectacular vegetation are now been used for irrigated agriculture, drawing water from major rivers. When irrigated, these desert can be phenomenally productive because of their year-round warmth and solar intensity.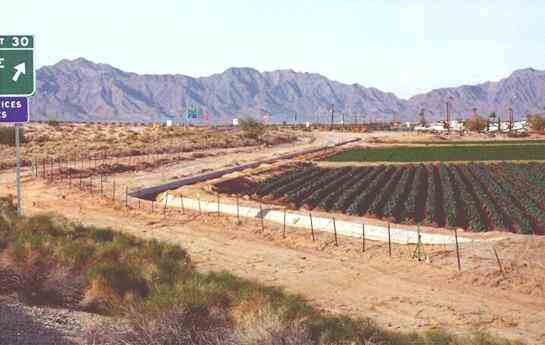 Irrigated agriculture (right) compared with the natural vegetation (left and foreground)