FISHHOOK AND PINCUSHION CACTI
[Images are clickable, for a larger version]
Many small cacti of desert environments are covered in raised nipples (tubercles) rather than having ribs as in the hedgehog cacti and the larger columnar cacti. Each nipple has an areole that produces a cluster of small spines. These cacti are classified in various genera, one of the most common being the genus Mammillaria. The species of this genus are commonly called pincushion cacti or fishhook cacti, depending on whether the spines are straight or are curved back at their tips.
The image on the left above shows a part of the stem of a Mammillaria species in cultivation, with a typical arrangement of the spines at the tips if the nipples. This is an example of a pincushion cactus - the three central spines (brown coloured) arising from each aureole are straight, and there is a cluster of white radial spines that cover most of the surface of the cactus. In Mammillaria (but not in all pincushion cacti) the flowers develop in a ring from the bases of the nipples that developed in the previous growing season.
The image on the left below shows an example of a fishhook cactus (again Mammillaria) growing in the shade of a shrub. The main (brown) spines are strongly curved at the tip, and again the radial spines cover the surface of the plant. After flowering, the Mammillaria species typically produce a ring of bright red, fleshy fruits (right-hand image below). In both of these images the plantsi were growing in the shade of low shrubs - the typical location of many small cacti in desert environments, where the cover plant shades the cactus from intense sunlight.
There are nearly 200 described species of Mammillaria, ranging from southern California to western Texas and extending southward into Mexico and Central America. However, they are scattered quite sparsely and are seldom conspicuous. One exception is M. dioica, commonly known as the coast fishhook, which is locally abundant in coastal areas near San Diego (exteme southwestern USA) and extends down the Baja Californai peninsula of Mexico. This species is quite large (up to 15 cm tall and 7.5 cm diameter) and unusual in producing flowers with few petals. The flowers are cream-coloured and the petals have a pronounced pink streak down their centre.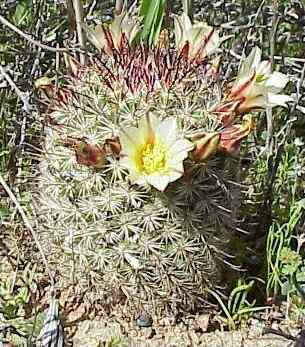 Mammillaria dioica, growing in central region of Baja California