BOOJUM TREE (Idria columnaris)
[All images are clickable, to show a larger version]
The boojum tree is one of the strangest plants imaginable. For most of the year it is leafless and looks like a giant upturned turnip. Its common name was coined by the plant explorer Godfrey Sykes, who found it in 1922 and said "It must be a boojum!". In saying this, he was referring of the strange and mythical creature that the author Lewis Carroll called a boojum in his children's book, The Hunting of the Snark. The Spanish common name for this tree is Cirio, referring to its candle-like appearance.
The plant itself is restricted to a relatively small region of the Baja California peninsula of Mexico (but with a small population also on the extreme western side of state of Sonora on the Mexican mainland). However, within this restricted region it is very common and sometimes forms forests that dominate the landscape on rocky hillsides or flat plains. In other cases the boojum grows in mixed communities with two other characteristic large stem succulents of the Baja California Desert - the giant cardon cactus and the elephant tree (Pachycormus).
| | |
| --- | --- |
| Boojum trunk with thin-walled leaves and an epiphytic lichen | Boojum trunk broken by wind |
Individual boojum trees can live for up to 100 years, and possibly up to 300 years, reaching a height of 18 metres. But the wood of their trunks is not very strong, so the plants are susceptible to damage by periodic hurricanes, which probably limit their natural age. The trunks of boojums often branch near the tops, and sometimes contort into strange shapes, even bending to touch the ground. The trunks contain succulent tissues that store moisture, so they are of the general type termed stem succulents. They have greyish-white bark and for most of the year are dormant, protected from water loss by a thick epidermal layer. Thin, pencil-like branches arise along the length of the stem and rapidly produce thin, rounded leaves in response to rain. These leaves soon wither and are shed in drought conditions.
| | |
| --- | --- |
| Part of a boojum forest | Boojum (right) with the closely related Adam's tree (left) and cardon cactus |
Boojums produce clusters of creamy white flowers at the tips of the trunks in July-August. These flowers resemble the flowers of ocotillo and of Adam's tree - both of which are very closely related plants in the ocotillo family (Fouquieriaceae).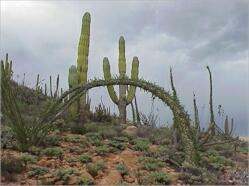 Boojum in a mixed community with cardon cacti