..
PHALLUS IMPUDICUS : THE STINKHORN
The Latin name for the stinkhorn (Phallus impudicus) means literally "the phallus without shame". Little more need be said!
Phallus impudicus is a member of the Basidiomycota and is remarkable because of its mode of spore dispersal. This fungus grows on buried wood beneath leaf litter in humus-rich soils, where it is attached to the wood by a thick mycelial cord. The initial stage of fruitbody development is an egg-like structure, from 3-6 cm diameter, containing the fruitbody primordium within a gelatinous matrix. Then the fruitbody expands rapidly above the soil surface by elongation of the white, spongy, hollow 'stem', often reaching a length of 15 cm. At the top of this is a cap, covered with dark, thick slime which contains the spores. The expanded fruitbody produces a strong, offensive odour, similar to rotting flesh, and is strongly attractive to flies, which accumulate in large numbers and carry the spores away on their legs, thereby dispersing the spores to new locations. Usually, within a few hours the slime has completely disappeared, exposing the cap with its distinctive reticulate pattern. See Figs 1-4 below. Stinkhorns can be very common in suitable environments, growing in loose clusters of 10 to 20 fruitbodies, which usually appear in summer to late autumn.
Six families and 22 genera of stinkhorns have been descibed, but there are only two species in Britain - Phallus impudicus and the smaller, less common "Dog stinkhorn", Mutinus caninus. However, the spores of several other fungi rely on insect-dispersal. Examples include Ophiostoma ulmi, the cause of Dutch Elm Disease (Chapter XX), and teliospores of some of the smut fungi are carried by flower-visiting insects.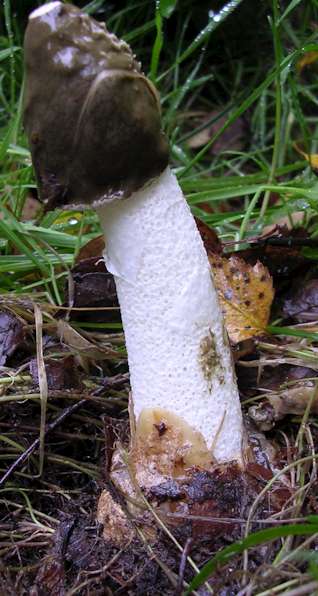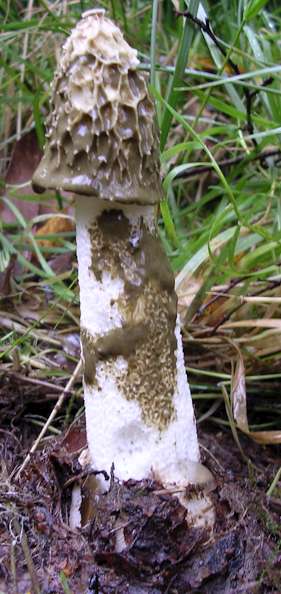 Fig 1. (Left). A newly emerged stinkhorn with its slime-covered cap intact. Note the swollen, egg-like base and the gelatinous remains of the egg. Fig 2. (Right): A stinkhorn from which some of the slime has been removed by rain. [© Jim Deacon]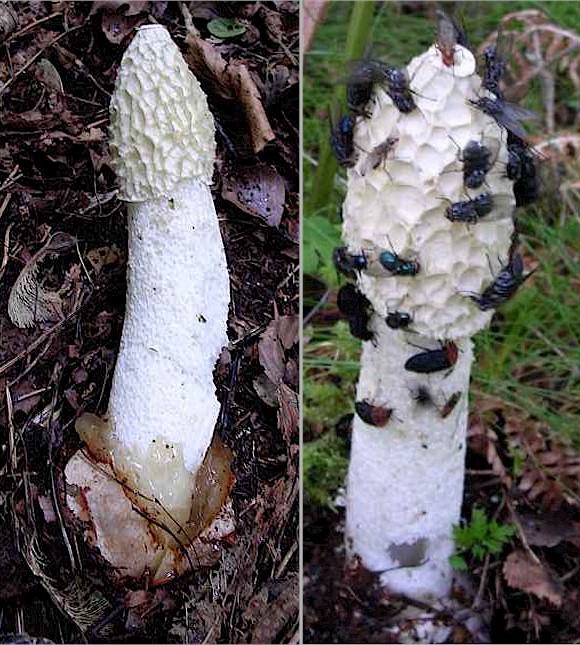 Fig 3. (Left). A stinkhorn that has lost all of its slime. Again, note the swollen, egg-like base and the gelatinous remains of the egg. Fig 4. (Right): Even after all the spore-containing slime has been removed, a stinkhorn can remain strongly attractive to flies and beetles for a several days. [© Jim Deacon]
GO TO DUTCH ELM DISEASE ? (another example of insect-mediated dispersal)